Victim Services Program
Please join us on April 8, 2019 for our 13th Annual Crime Victims' Tribute Ceremony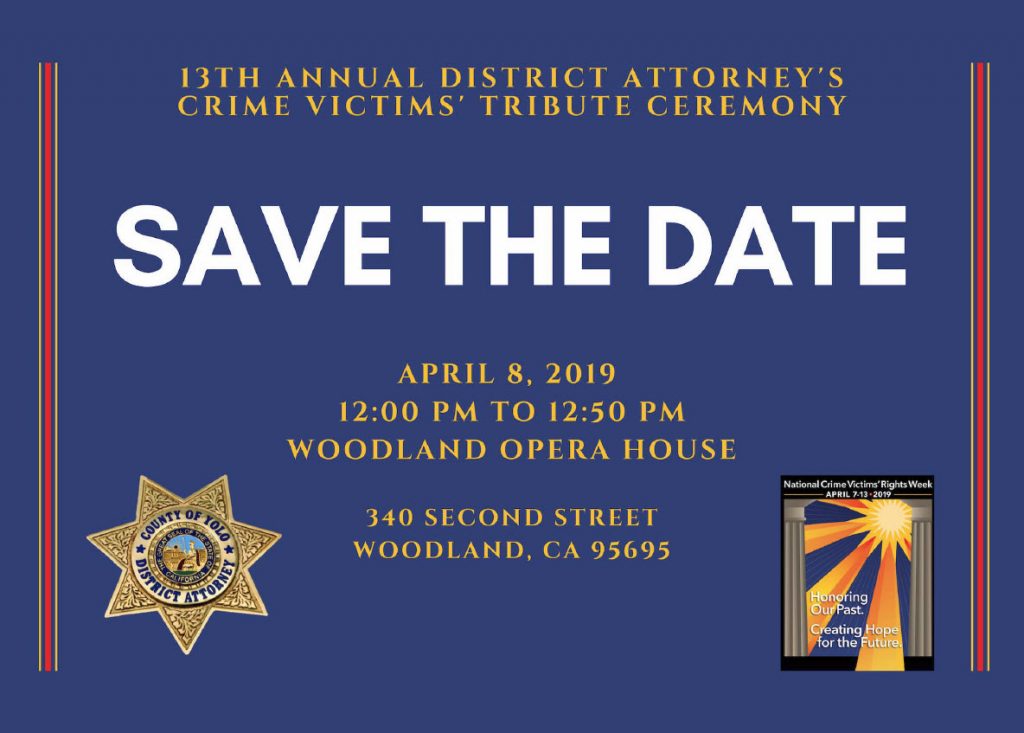 Crime Victims' Tribute Ceremony (PDF)
---

"Protecting and Serving Victims of Violent Crime"
Help is available for victims of, and witnesses to, a crime -- the murder of a loved one ... a sexual assault ... the disclosure of a molest. Victim Services staff members cannot take the pain away nor can they bring back a loved one, but they can help victims and their families meet the immediate and long-term needs created by crime in their lives.
The Yolo County Victim Services Program was created out of state legislation enacted in 1980. The program has been in existence since that time and housed in the District Attorney's Office. Dedicated to providing comprehensive services to victims of violent crime, Victim Services Program staff provide information about the criminal justice system and advocates for the rights of victims of violent crime. Some of the services they provide are:
Resource counseling and the referral to appropriate agencies.
Acting as a liaison between victims and the criminal justice system.
Attending court hearings with victims or informing victims about court proceedings, including information about restitution and court protective orders.
Assisting victims in preparing and delivering Victim Impact Statements in court at sentencing hearings.
Referring victims to 24 hour crisis intervention programs.
Assisting qualified victims with applications to the State's Victims of Crime Program through the Victim Compensation and Government Claims Board.
Collaborating with other community agencies to provide optimal services to victims of violent crime.
Reciprocal training to law enforcement and local service agencies.
Advocacy to victims of felony domestic violence cases through a specialized unit in the District Attorney's Office.
Referrals to state agencies after a defendant's sentencing to state prison or the California Youth Authority.

Please let us know if you would like more information on Victim Services Internship Opportunities.
Domestic Violence Awareness Information
State of California AG - Office of Victims' Services - A valuable resource for information concerning Victims of Crime
State of California Department of Corrections and Rehabilitation
Request for Victim Services Form CDCR 1707 (Rev. 04/08 Internet)
Contact Information
Phone: (530) 666-8187 | Fax: (530) 666-8185 | Address: 301 2nd Street Woodland, CA 95695