What is Neighborhood Court?
Neighborhood Court (NHC) uses the principles of restorative justice to resolve offenses outside of the traditional criminal justice system. Volunteer panelists take part in a conference with their fellow community members and the participant to hold them accountable by identifying the harms caused by their conduct. Together they come up with a collaborative solution designed to address those harms in a way that is restorative rather than punitive.  Neighborhood Court's volunteers help victims, community members, and participants move forward in a positive direction.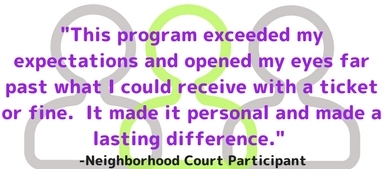 How It Works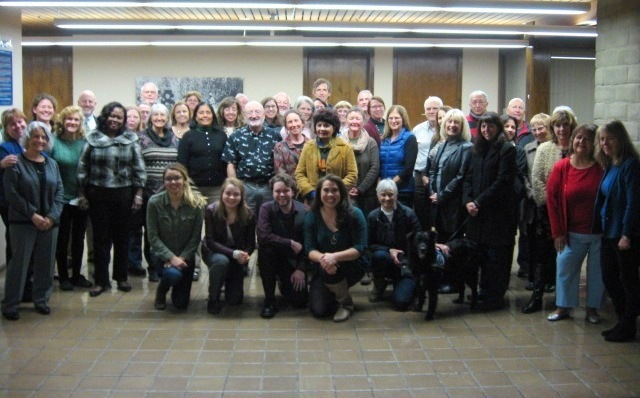 Neighborhood Court was initiated by the Yolo County District Attorney in 2013. It is a collaborative effort between the cities of Davis, West Sacramento, and Woodland,  along with UC Davis and local police departments.
The purpose of this program is to address criminal violations that impact the quality of life of our neighborhoods.
Our volunteer panelists represent the community's needs, interests, and perspectives with respect to the crime committed. Volunteers meet directly with the offender in a face-to-face facilitated conference.
During the conference, volunteers 1) name the harms the community experiences as a result of the crime, 2) ask questions of the offender to understand the circumstances around the crime, and 3) decide together with the offender the steps that are necessary to make things right (as much as possible). This face-to-face dialogue is designed to encourage accountability on the part of the offender and remedy the situation as fully as possible.
Join the NHC Volunteer Team

The Yolo County District Attorney's Office is always seeking community volunteers for the Neighborhood Court diversion program. Submit a volunteer application today!  Please register at My Volunteer Portal and apply. We look forwarded to welcoming you to the Neighborhood Court Team!
You can regularly find Neighborhood Court tabling at local colleges, universities, and community events.  Students play a big role in helping to restore their communities by serving on our panels. Thanks to NHC's minimal time commitment (one night a month from 6-9 pm!) and flexible scheduling, anyone can serve! If you're a student and need some extracurricular activities to boost your resume, NHC might be a perfect fit!
Prospective volunteers are required to complete both the Panelist Training and Mock Conference Training sessions. Training is held annually in Davis, West Sacramento, and Woodland in the Spring and Fall. Volunteers must complete a background check and observe a conference in order to serve as panelists.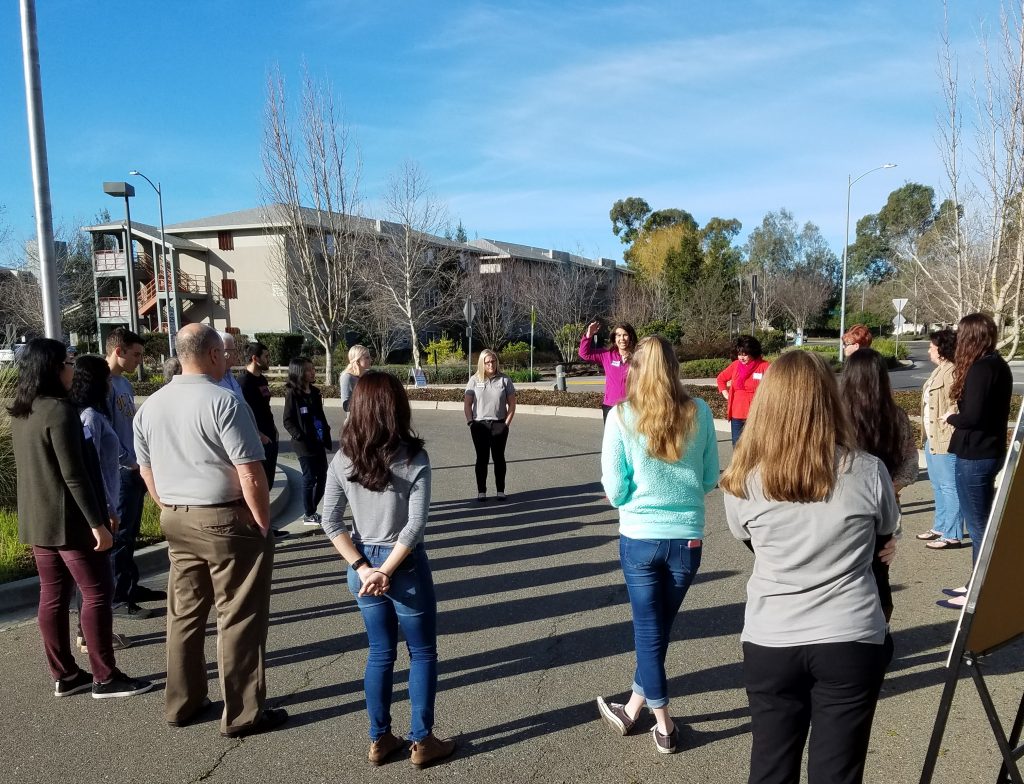 Neighborhood Court Panelist Training - The Panelist Training covers the basic principles of Restorative Justice, the 3-step Neighborhood Court conference model, and communication skills applicable to the Panelist role.
Neighborhood Court Mock Conference Training - The Mock Conference training allows participants to act out a conference from start to finish and practice applying the techniques and skills they learned in training.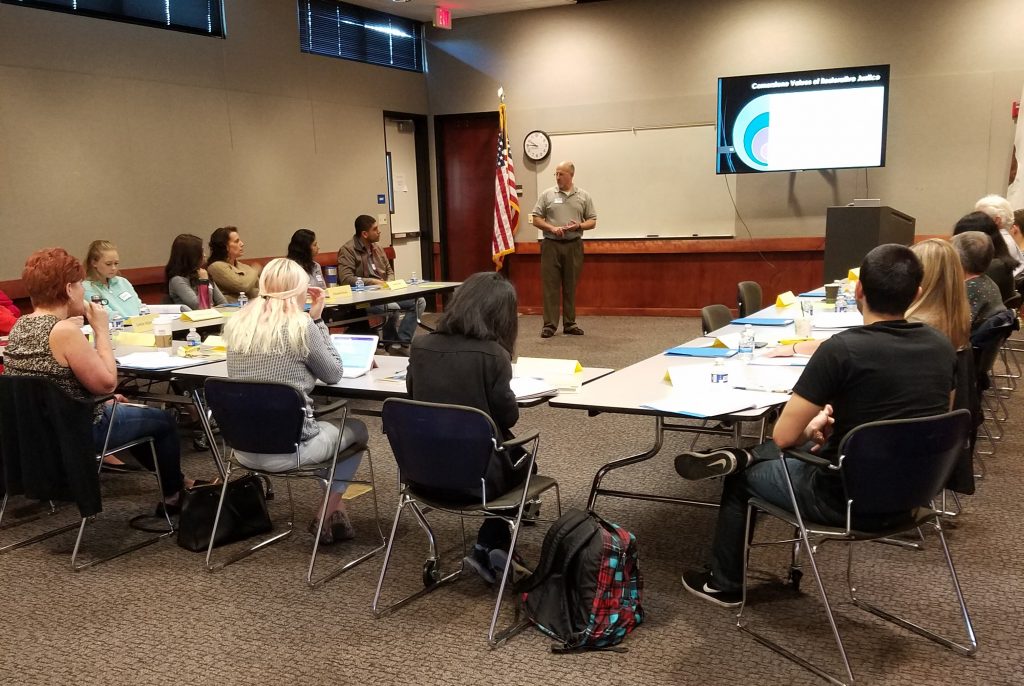 Training Schedule
Fall 2018 Training Dates
Saturday, November 10th, 8:45am - 5pm
West Sacramento Community Center, River Room
1075 W. Capitol Ave. 
Email: neighborhoodcourt@yolocounty.org
Phone: 530-666-8378
Cost/Free: Events are provided free of charge to volunteers
Registration Deadline: Continuous
The 4 Pillars of Neighborhood Court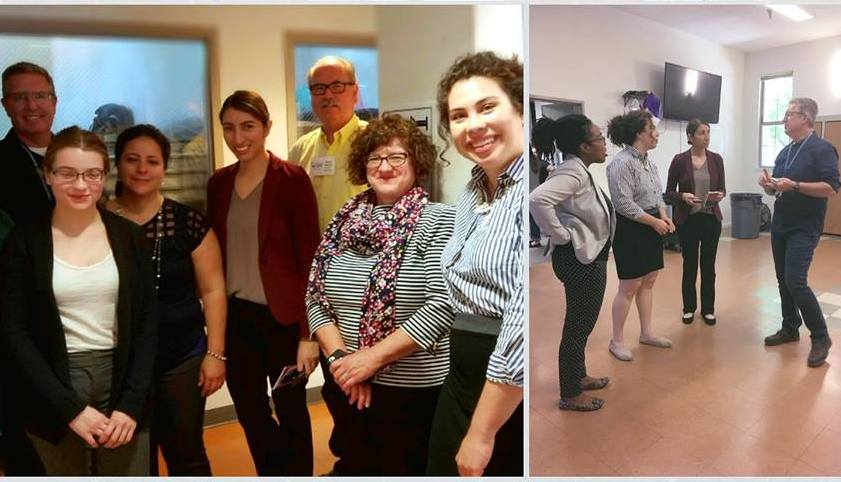 Neighborhood Court utilizes victim advocate services and engages community resources to provide better options and support to program participants.
Neighborhood Court strengthens neighborhoods impacted by criminal activity in four ways:
Restore Victim
Neighborhood Court is victim centered by placing emphasis on the victim's needs. It is focused on offenders making things right to the greatest extent possible with their victims. Offenders pay restitution to victims who have suffered monetary losses or property damage.
Restore Community
Neighborhood Court creates an atmosphere of inclusion and responsibility by providing a direct role for residents to oversee the resolution of offenses in their city. When appropriate the offender will complete community service that goes directly to improving conditions in the area impacted by the crime.
Restore Offender
Neighborhood Court offers offenders a second chance by avoiding a criminal conviction on their record upon successful completion of the program. Offenders are also restored by helping them understand the consequence of their actions and by giving them the opportunity to pay back the community they harmed through community service.
Educate Offender
Neighborhood Court educates offenders by helping them understand why they committed the offense which led to their current situation. Offenders can be educated in alcohol use, anger management, and how to be considerate to their community, as well as other topics designed to change or modify their behavior.
Neighborhood Court does not discriminate on the basis of race, color, national origin, religion, sex, disability, and/or age.
What's Next?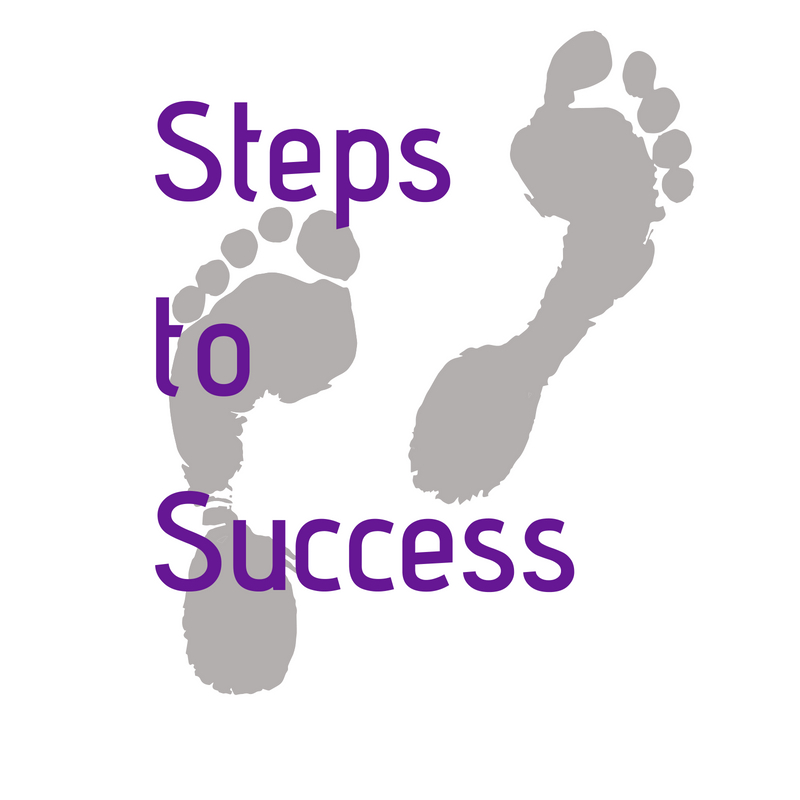 Neighborhood Court is expanding to better address participants struggling with mental health and addiction issues through a program called Steps to Success (S2S). S2S utilizes principals of Restorative Justice to address the intersections of criminal misconduct and such issues as untreated mental illness and/or substance abuse in Yolo County. The main goals are to:
Assist participants in gaining access to medical treatment so they can begin the road to recovery.
Develop a case plan with a case management team designed to connect the participant with assistance and public programs that can offer relief to their current situation.
Help participants to reintegrate themselves within the larger community.
This program utilizes community volunteers in a format similar to Neighborhood Court. Participants meet in a conference with a facilitator, panelists, and a case worker. Volunteers may choose to participate in NHC and/or S2S. If you would like to volunteer for S2S, you must complete both NHC and S2S training sessions.

DA's Office Releases Four-Year Report on Neighborhood Court Program and Comprehensive 2017 Recidivism Study
     
To read the entire Four-Year Report click on the following link: NHC Four-Year Report
To read the entire Recidivism Study click on the following link: NHC Program Recidivism Study
Download Printable Brochure
Download Neighborhood Court Panelist Application
Download Neighborhood Court Facilitator Application
Description of the Facilitator's Duties and Qualifications
Description of Panelist's Duties and Qualifications
Frequently Asked Questions
Menu of Options (UPDATED 1/1/2019)
NHC Qualifying Offenses
NHC eligibility criteria
Participant Rights
Neighborhood Court Research Paper
Restorative Justice Defined
2014 Neighborhood Court Year End Report
All downloads are in Adobe Acrobat PDF format. Please click here to get the free Adobe Acrobat Reader.
For More Information:
If you would like additional information about Neighborhood Court, please call (530) 666-8378, or email neighborhoodcourt@yolocounty.org.