Yolo County is seeking to expand current grant-funded restorative diversion options such as the Neighborhood Court and Steps to Success/Full-Service Partner programs for the criminal justice-involved. These programs provide connections to resources, services, and supports for our local community members experiencing homelessness, substance use disorders, and/or mental health concerns contributing to criminal behavior. We need your input as we work to expand our reach. 
Community Engagement Meetings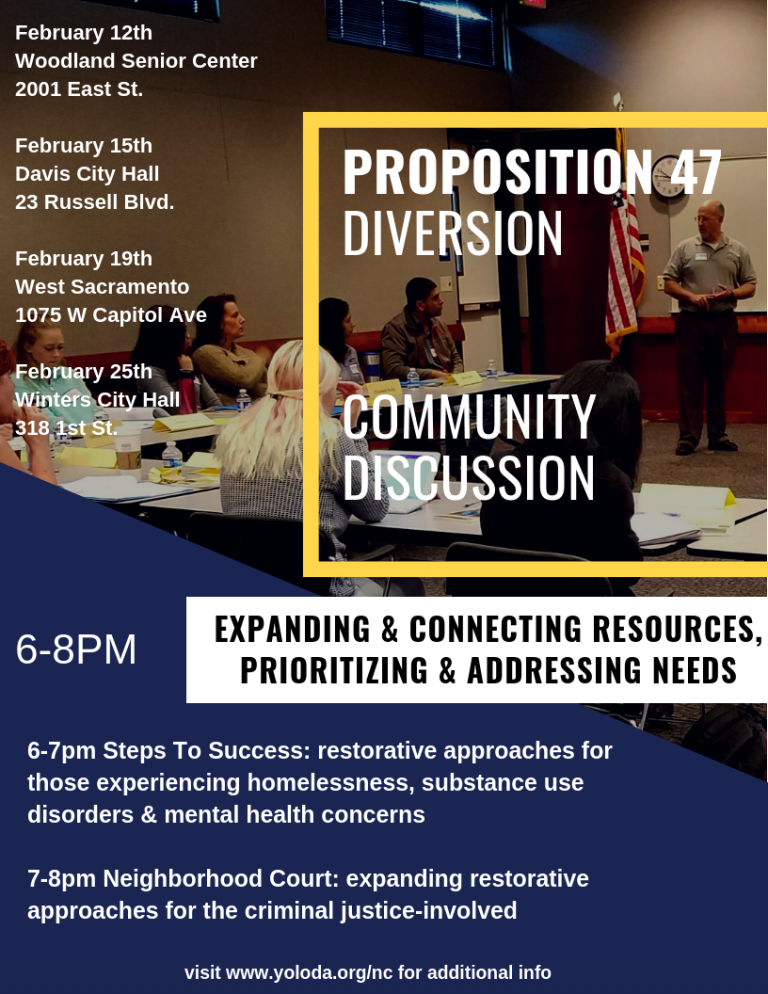 Community discussions to address needs, ideas, and concerns about expansion of the grant funded Steps to Success and Neighborhood Court diversion programs have been held in Woodland, West Sacramento, Davis, and Winters. 
Please send questions and comments to Prop47@yolocounty.org or NeighborhoodCourt@yolocounty.org for questions related to the Neighborhood Court expansion.
0:00 - Start of Prop 47 Proposal Presentation (Slides)
19:50 - Start of Public Comment for Prop 47 Proposal
1:03:55 - Start of Neighborhood Court Expansion Presentation (Slides)
1:17:30 - Start of Public Comment for Neighborhood Court Expansion
Woodland Presentation Video (0:00 - Start of Prop 47, 1:12:00 Start of NHC Expansion)