Yolo County merchants lose millions of dollars because of non-sufficient fund/closed account checks. Consumers share in these losses through higher prices. The District Attorney's Check Prosecution Unit tracks down the bad check writers, at no cost to the victim for using the program, returns the money to the victim/merchant and deters future offenses through a diversion program and possible criminal prosecution. This program is designed to help protect and seek justice for our communities by removing some of the investigation burden from local law enforcement agencies and providing new methods of obtaining restitution for victims while also educating offenders. 
In the State of California, writing a NSF (non-sufficient fund) or account closed check, with the intent to defraud, is a crime by the authority of California Penal Code Section 476a(a). 
Why It Works 
Bad check reports are easy to file and and we strive to follow-up as promptly as possible.
Upon recovery, 100 percent of the face value of the check is returned to the merchants.
There is no minimum dollar restriction.
Payment is mandatory and bad check offenders can opt to complete a 12 hour educational class at their expense.
 All work is done here in Yolo County.
Filing a Report
Make personal contact with the check writer and if you are unsuccessful, send a courtesy notice. The check writer has 10 days to respond and remit payment.
If you do not hear from the check writer or receive payment, simply contact the Check Prosecution Unit at 530-666-8200 or download the Bad Check Report Form.
Fill out the Bad Check Report Form, attach originals (you retain photocopies) of all the checks and notification documents, such as return receipts and bank notices.
Read Every Check Carefully for the Following Eight Points: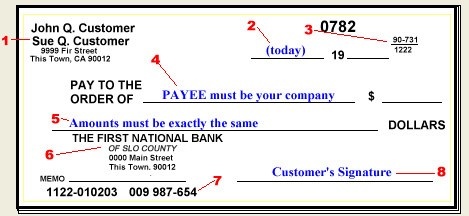 1. Must be Personalized - Complete name and address preprinted by the bank.
2. Date must be current - Never post dated or more than 30 days old.
3. Check the Bank ID#
4. Payee must be your company.
5. Amounts written and numerical must be the same.
6. Bank name and address must be printed on the check.
7. Bank and customer computer numbers must be printed on check.
8. Customer signature - Must be signed in your presence.
FAQ  | Courtesy Notice | Warning Sign (English) | Señales de alerta (En Español) | Bad Check Complaint Form
Office Location 
301 Second Street
Woodland, CA 95695
Phone: 530-666-8200
Fax: 530-666-8185
Mailing Address
Yolo County District Attorney's Office
Check Prosecution Unit
PO Box 1404
Woodland, CA 95776