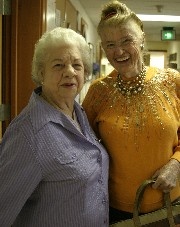 The Yolo County District Attorney's Offic is committed to fighting elder abuse and improving the quality of life for seniors. To that end, the District Attorney's Office has staff who are specially trained and dedicated to prosecuting crimes against the elderly. 
The most effective line of defense against elder abuse remains seniors themselves. By resisting high-pressure sales tactics, taking time to make decisions, and most importantly discussing personal matters with trusted friends and loved ones, seniors can often prevent many forms of elder abuse. The information on this website will help seniors protect themselves by further explaining "elder abuse" and giving tips for its prevention.
Please review this information and discuss it with others. If you are concerned that someone is attempting to victimize you or a senior you know, you can contact the following agencies:
Agency Hours/Phone
Yolo County District Attorney - Elder Protection Unit
530-666-8416
(Monday through Friday - 8:00 A.M. to 5:00 P.M.)
Yolo County Adult Protective Services
888-675-1115
Davis Police Department
530-747-5400
West Sacramento Police Department
916-617-4900
Winters Police Department
530-795-4561
Woodland Police Department
530-661-7800
Yolo County Sheriff's Department
530-666-8282
For All Emergencies
911
What is Elder Abuse? 
Elder abuse is the mistreatment of those who are aged 65 and older. This includes financial abuse, physical abuse, emotional abuse, and neglect. Elder abuse happens everywhere in poor, middle class, and upper-income households. It is a problem that has no demographic or ethnic boundaries. Because family members or close friends of the senior are often the culprits of financial, physical, and emotional abuse, this abuse is often difficult to discover and to accept.
What is Financial Abuse?
Financial Abuse is the mismanagement of money, property or other assets belonging to a senior. Anyone who has access to your personal information, such as bank account numbers, credit cards, checkbooks, etc. can potentially steal from you. Be careful about whom you trust. You can take steps to protect yourself from financial abuse.
Protect Yourself:
Cancel all credit cards you are not using.
Never keep the Personal Identification Number (PIN) for your ATM card in your wallet. If you need to write it down, be sure to keep it in a secure place.
Never give your credit or ATM cards to a family member or a friend to buy things for you. Whenever possible, give them cash or reimburse them with a check.
Try to balance your checkbook or have a trusted family member or friend do it for you on a monthly basis. Immediately inform your bank or credit card companies of any activity that does not appear to be your own.
Report financial abuse to Adult Protective Services by calling 888/ 675-1115 or by calling your local police department.
Signs of Elder Financial Abuse:

You detect unusual activity in your bank accounts such as numerous withdrawals or attempts to withdraw a large sum of money.
A friend or caretaker asks you for a loan and tells you to keep it a secret. A need for secrecy can be a warning sign of an intent not to repay the loan.
You see your bills piling up when payment is the responsibility of your caretaker.
You see changes in your will or power of attorney though you are unable or unwilling to make such changes.
You lack amenities, such as clothing and grooming items, although you have the means to pay for these items.
What is Physical Abuse? 
Physical Abuse is the infliction of bodily injuries on an elder. Seniors or their loved ones should immediately report physical abuse to law enforcement by calling "911" or Adult Protective Services by calling 888-675-1115. Keep a list of emergency numbers you can call in the event that someone in your home physically abuses you.
Signs of Elder Physical Abuse:
Obvious lacerations, abrasions, fractures, welts, bruises, discoloration, or swelling.
Pain or tenderness on mere touch.
Burns caused by cigarettes, ropes or other bonds.
Detached retina, bleeding, or scalp wound.
Elder becomes withdrawn or protective of the suspect