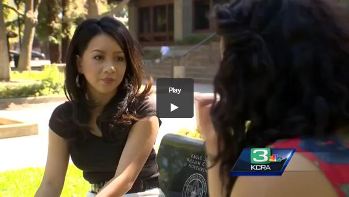 Scammer pretends to be from district attorney's office
Via KCRA News, UPDATED 7:54 AM PDT Jul 04, 2014
WOODLAND, Calif. (KCRA) —A new phone scam involving the Yolo County District Attorney's Office is hitting some Woodland residents.
Criminals, posing as staffers from the DA's office, make threats against victims for tens of thousands of dollars, employing what's known as "caller ID spoofing."
One of the victims, Christina Pineda, spoke to KCRA 3 on Thursday.
The 20-year-old said she is still traumatized from what started as voicemails from an alleged scammer.
"Christina Pineda! This is Daniel Hood from Jeff Reisig's office here at the Yolo County District Attorney's Office," one of the messages said. "Apparently, somebody down here knows you have two charges of what looks like an arrest warrant from a $45,000 bond."
What made the message more legitimate, and therefore scary, Pineda said, was that the number was indeed that of the DA's office.
"I was like, 'What is going on?' I started freaking out. I'm an emotional person," she said. "I started crying."
Pineda called the DA's office, but she thought officials there were mistaken when they told her they could not locate any information related to her.
The voicemail also directed Pineda to go to the Woodland police station, but officers there also said there was no case under her name.
"I literally sat in front of the police station crying," Pineda said. "I didn't know what to do."
The alleged scammer also threatened her with arrest if she did not at least pay $1,400 when he spoke to her over the phone.
Before she could borrow money, Pineda got a call from a real representative from the district attorney's office.
Chief Investigator Rob Strange told KCRA 3 that cheap and easy Internet services allow scammers to mask their real numbers with that of government agencies.
"If anybody is trying to seek personal information on an unsolicited phone call, whether they're trying to represent themselves -- in this case a governmental agency -- or in another case as collections, people should be suspicious," Strange said.
Pineda did not lose any money, but still feels victimized.
"Someone came into my space and invaded my privacy and my life," she said. "It's sad that people will do that."
Falsifying telephone number information with the purpose of defrauding or causing harm is illegal, as a result of the Truth in Caller ID Act, which became law in 2010.