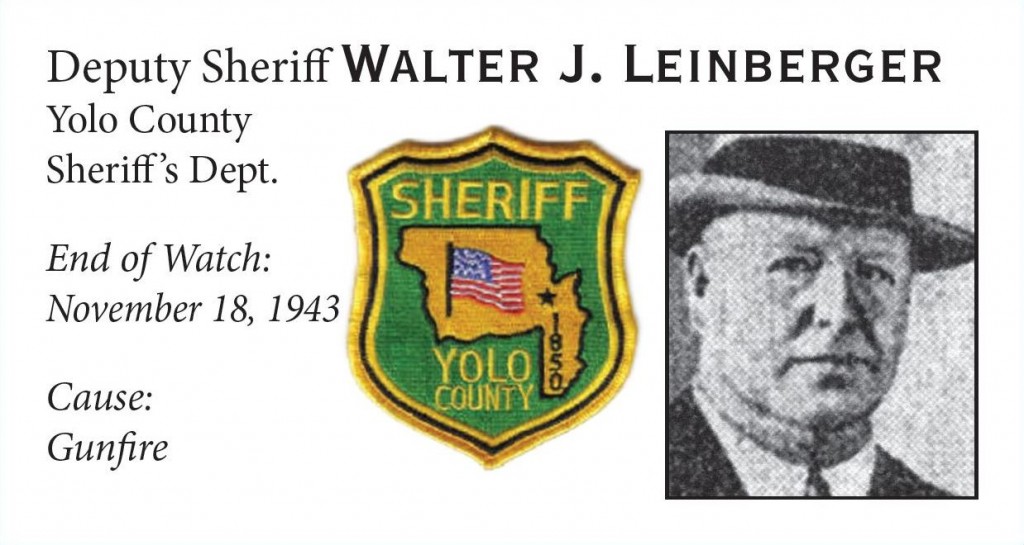 Deputy Sheriff
WALTER J. LEINBERGER
Yolo County Sheriff's Department
End of Watch: November 18, 1943
Deputy Leinberger, accompanied by his wife Zetta, was attempting to arrest 38-year-old Luis "Ironmouth" Balle, when Balle, burst out of a Bryte cabin firing his pistol, slaying Deputy Leinberger as his wife watched. Zetta, who had never fired a gun before, took her husband's weapon and fired six times at the gunman, who ran off. It was later discovered that she wounded him twice in the arm.
In less than twenty-four hours, authorities caught up with Balle in a Sacramento alley. During a shootout with the lawman, Balle was shot and killed. Ralph W. Bonnetti, then a Folsom Prison guard and a close friend of the slain deputy, was among the officers who finally caught up with Balle. Bonnetti was later hired as a deputy by Yolo County Sheriff Forrest Monroe, and in 1952 was elected judge of the Washington Judicial District Court in Eastern Yolo County.
Deputy Leinberger's son William, who was eleven-years-old at the time of his father's death, joined the Yolo County Sheriff's Department in September 1956 and retired as a sergeant in 1984.
In November 1991, county law enforcement officials gathered to dedicate the Sheriff's new minimum-security center to the memory of Walter J. Leinberger.