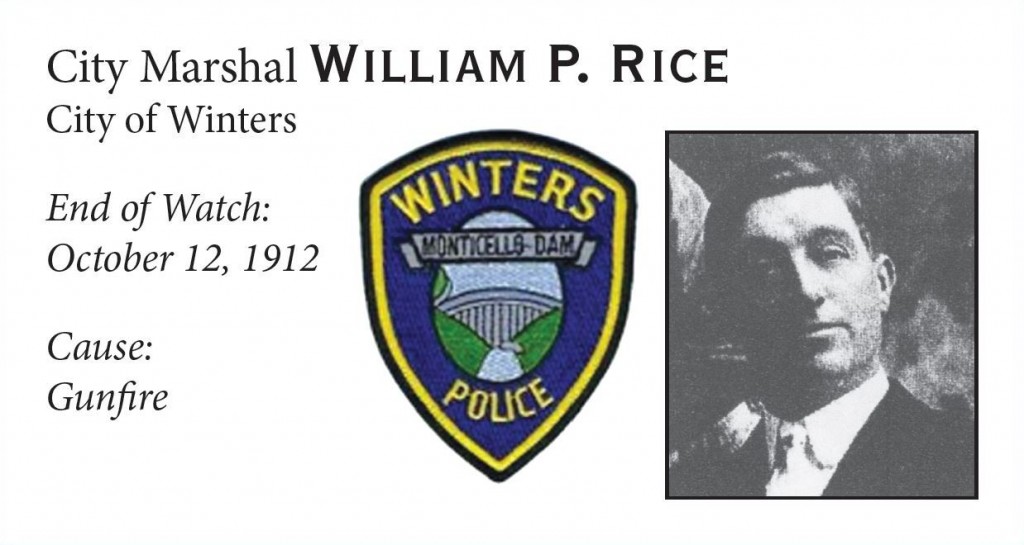 City Marshal
WILLIAM P. RICE
City of Winters
End of Watch: October 18, 1912
City Marshal Rice was killed in the line of duty on October 18th, 1912. Marshal Rice was unarmed when he assisted Constable Andrews who was responding to a call about an intoxicated man waiving a gun in the street. Marshal Rice had been able to talk to the man on previous occasions and entered the intoxicated man's residence. Marshal Rice entered through the front door as Constable Andrews and the reporting party (identified as James W. Chapman) went around the back. The intoxicated man fired and shot Marshal Rice in the chest. He was arrested as he stepped into the street to re-load his gun. Marshal Rice had been employed for six months. He was married to Alice Chadwick in 1906. He left behind a son, Harry Rice aged 14 months.
City Marshal William Rice was added to the National Law Enforcement Officer's Memorial in Washington DC in 2011 and to the State Law Enforcement Officer's Memorial in Sacramento in 2012.