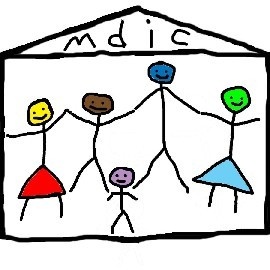 Yolo County's Multi-Disciplinary Interview Center (MDIC)
Serving and Protecting Our Children
Under The Umbrella of The Yolo County District Attorney and The Leadership of The MDIC Oversight Committee
Mission Statement
We will coordinate a multi-agency response to child abuse, which reduces trauma to victims, increases child protection, and aids in the successful prosecution of offenders by providing a child-friendly center where the investigation of child abuse can be expedited and where victims and their families receive effective and immediate support. We are committed to providing quality care for our child victims and their families while striving to protect our community.
What is the MDIC? 
The MDIC is a child friendly, safe, and supportive environment where child victims of sexual abuse come for forensic interviews, medical evidentiary examinations, advocacy, assessment, therapy, and support services. The MDIC serves all child victims in Yolo County.
Primary Focus

The MDIC's primary focus is to reduce the additional trauma that child victims often experience when going through the processes necessary to bring their perpetrators to justice. When allegations of child abuse are made, the potential for a child to experience trauma and confusion from the responding systems is extremely high. Repetitive interviews and investigations by multiple agencies create problems for child victims and cases.
The MDIC is a specialized team of highly trained professionals representing a countywide effort to create the least traumatic and most effective system for responding to child abuse in our community. We accomplish this through intensive collaboration between the agencies currently responsible for child abuse cases and through partnerships with local agencies serving children and their families.
The Setting
The MDIC was specially designed with the child victim in mind. All rooms, including interview rooms and the medical exam room, are decorated and equipped to ensure a warm, non-threatening environment. The MDIC has a comfortable family room with a children's play area. During interviews, exams, or counseling appointments, parents can meet with an advocate in the family room while siblings spend time with center staff in the play area.
Child abuse cases rely heavily on the child's statement. How it is collected is critical to successful prosecution. However, investigative interviews can be stressful for children. For these reasons, the MDIC was created to make the investigative process as comfortable as possible for children. The purpose of the interview is to conduct an interview that will gain the most comprehensive information and be acceptable in a court of law while limiting stress and trauma to the victim and family.
Interviews cover multiple agency agendas to avoid children having to experience repetitive interviews and numerous unfamiliar professionals to whom they must relate. Children are interviewed by Child Interview Specialists (CIS) who are experienced and specially trained to conduct forensic interviews that are sensitive to their developmental and emotional needs. Interviews are conducted according to State guidelines that enable the interviewers to be child-focused and neutral.
To help families and children feel more comfortable with the process, parents are encouraged to schedule a tour of the center prior to their child's appointment.
Therapeutic Services
Each family's needs are unique and important. Children seen at the MDIC receive a needs assessment including clinical assessment. Children and families return to the MDIC for ongoing therapy if indicated. MDIC staff strive to address each family's needs through support, referrals, advocacy, and counseling. All MDIC services including interviews, case management, advocacy, and therapy are provided by Spanish-English bilingual staff.
The Team Approach 
* Broadens the decision making base for the systems involved with child protection
* Enhances the quality of the interview and investigation consistently providing better information for use in court.
* Provides all team members with a level of professional support that allows them to work effectively with difficult and complex cases.
* Increases the competency level of team members by exposing them to cross-disciplinary learning.
* Provides children and families with support and consistency throughout the case in addition to a more thorough needs assessment.
* Reduces child abuse in the next generation by comprehensively responding to today's victims.
MDIC Partners

The MDIC is a collaborative of community agencies committed to protecting our children. It is through this partnership that Yolo County is able to deliver the best service to our community despite limited public resources. Our partners include:
* Yolo County District Attorney
* Department of Employment & Social Services
* Law Enforcement:
o Davis Police Department
o UC Davis Police Department
o West Sacramento Police Department
o Winters Police Department
o Woodland Police Department
o Yolo County Sheriff
* Department of Alcohol, Drug, & Mental Health
* Sexual Assault & Domestic Violence Center
* Victim/Witness Program
* County Counsel
* Health Department
* Probation Department
* UC Davis Children's Hospital-CAARE Center
Referrals to the MDIC are made by Law Enforcement and Child Welfare Services.
MDIC staff can be reached at:
530/ 666-8186
9:00 a.m.-5:00 p.m. Monday - Friday