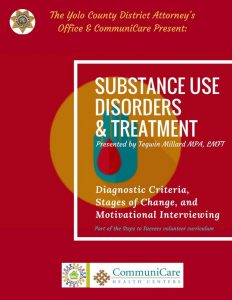 Tues July 31, 6:00-8:00 at the Gonzales Bldg #167, 25 N. Cottonwood, Woodland
The Yolo County District Attorney's Neighborhood Court program, in partnership with CommuniCare Health Centers, will be hosting a presentation on Substance Use Disorders & Treatment.
Participants will be provided the opportunity to:
1. Develop a basic understanding of the diagnostic criteria for Substance Use Disorders and treatment.
2. Develop knowledge regarding the Stages of Change.
3. Develop familiarity with basic Motivational Interviewing concepts and strategies.
4. Reflect on ways to be effective, self-care strategies, and tips on managing expectations/hopes
All presentations are open to the public. Your attendance is encouraged. For additional information please visit www.yoloda.org/nc or contact Volunteer Coordinator, Nicole Kirkaldy, at Nicole.Kirkaldy@yolocounty.org or 530.666.8378.