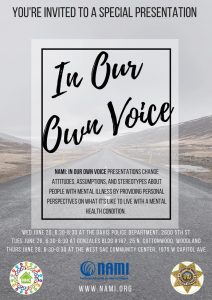 Wed June 20, 6:30-8:30 at the Davis Police Department, Community Room, 2600 5th St
The Yolo County District Attorney's Neighborhood Court program, in partnership with the National Alliance on Mental Illness (NAMI) and the Yolo County Health & Human Services Agency (HHSA), will be hosting presentations of the NAMI: "In Our Own Voice" speaker series. The presentations will be accompanied by a brief introduction of the new Steps to Success (S2S) program.
NAMI promotes "In Our Own Voice" as a program designed to "change attitudes, assumptions, and stereotypes about people with mental health conditions. These presentations provide a personal perspective of mental illness, as presenters with lived experience talk openly about what it's like to live with a mental health condition. Trained presenters humanize the misunderstood, highly stigmatized topic of mental illness by showing that it's possible—and common—to live well with a mental health condition."
All presentations are open to the public. Your attendance is encouraged. For additional information please visit www.yoloda.org/nc or contact Volunteer Coordinator, Nicole Kirkaldy, at Nicole.Kirkaldy@yolocounty.org or 530.666.8378.